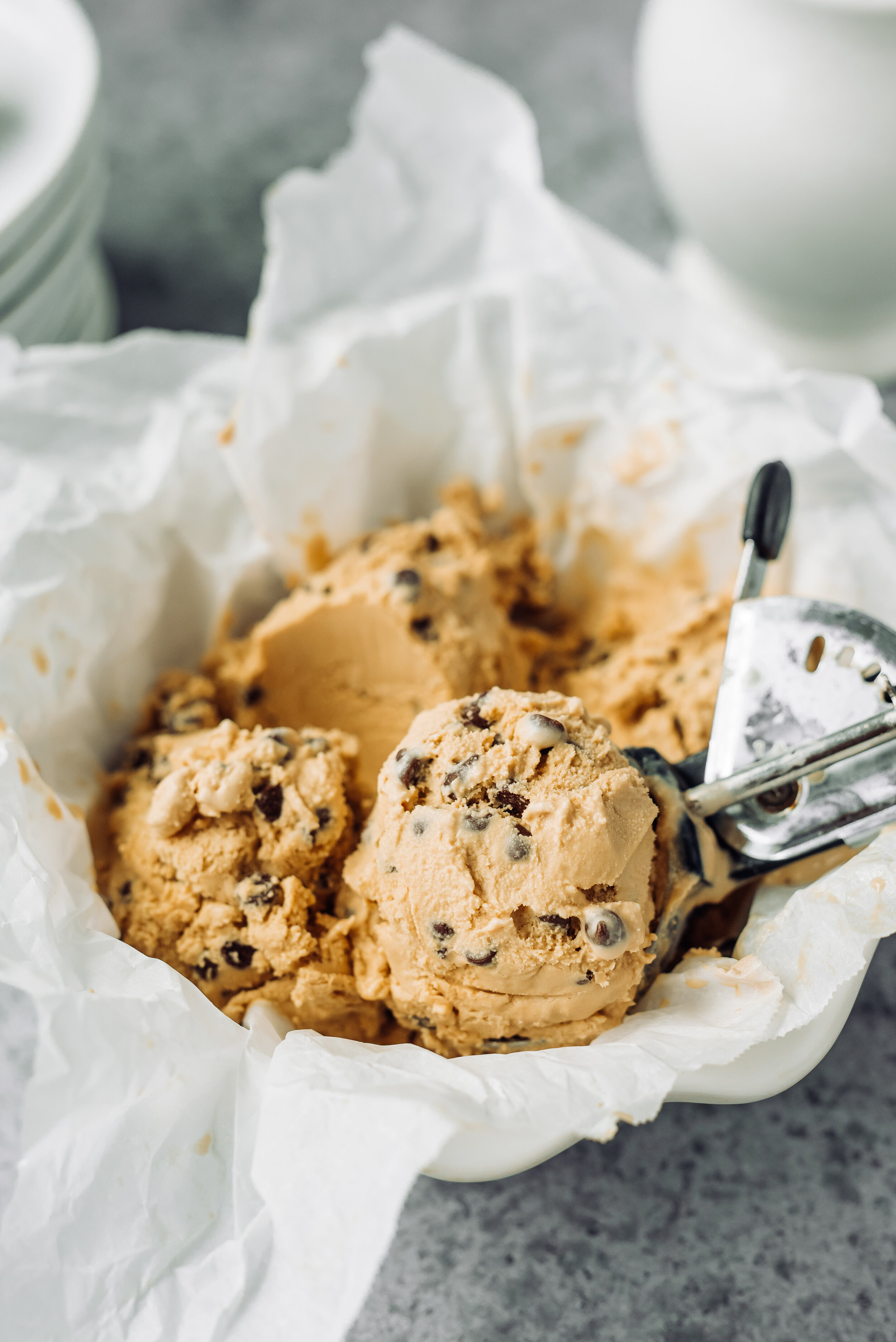 This ice cream is absolutely incredible and so simple! For my birthday this year, my mother-in-law got me the ice cream maker attachment for my KitchenAid mixer, and Cody and I have been experimenting ever since.
This ice cream batter will work with any ice cream maker, and it is super easy! You can easily double it to make more, but since there's only two of us, I prefer to make it in small batches! Enjoy!!!!
| Makes about 3 Pints
Print this recipe below

---
Ingredients
1 cup milk
1 cup whipped cream
1/2 cup date syrup, maple syrup or honey (all work!)
2 egg yolks
1 tsp salt
1 cup mini chocolate chips
Directions
Warm your milk and cream over medium heat for about 5 minutes. You don't have to stir often. Just let it sit. Make sure it never bubbles!
In a small bowl, whisk 2 egg yolks and your sweetener.
SLOWLY pour in your egg and sugar mixture into your milk mixture, whisking rapidly the whole time until everything is combined.
Heat this mixture for a couple of minutes, stirring every 30 seconds or so.
Chill for 2 hours.
Your batter is ready to churn! Use an ice cream maker to turn your batter into ice cream, stir in your chocolate chips and enjoy.
I use this Kitchenaid ice cream maker attachment and love it. But Recommend this ice cream maker if you don't have a Kitchenaid mixer!
I love storing my homemade ice cream in these MINI CARTONS pictured below. They are so cute and the perfect serving size! I ordered two sets in case I ever make bigger batches.
---